Posted on Apr 27, 2012 by Matt Garner
There were zero surprises around Andrew Luck being taken first overall by the Indianapolis Colts in yesterday's draft. Based on the growing use of Google+ Hangout by top athletes, celebrities, and brands – it also wasn't much of a surprise to see Luck (at the behest of the Colts) use the video tool to interact with a handful of lucky Colts fans only minutes after he was formally drafted by Indianapolis. The Hangout was less than 10 minutes, but it's fair to assume that the fans selected to join the Hangout will forever be Andrew Luck fans.
One surprising thing with the Hangout was to see it embraced by the Colts, who were one of the last NFL franchises to join Facebook. The one social media presence leading the Colts, also happens to be the owner of the organization – @JimIrsay. The eccentric owner is a must follow on Twitter as he shares is random thoughts and song lyrics, while also giving away gifts, tickets, money, and even cars. It will be interesting to see how the Colts leverage social media as the organization transforms with the departure of #18, and the arrival of Luck.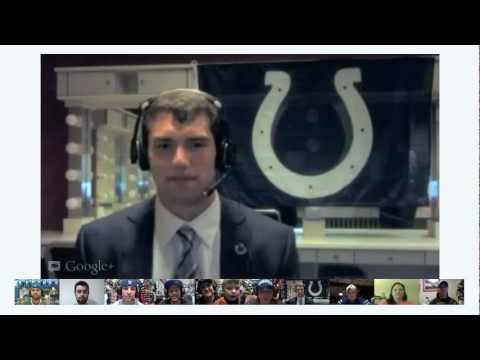 Viewers not only were able to see Luck, but also quickly saw a few of the selected fans were sporting the brand new New Era hats with "INDIANAPOLIS" emblazoned on the on the hat. Some fans even dialed into the Hangout from their local Lids stores. I quickly connected the dots (while also reading the title of the video) to see the Hangout was "Presented by New Era and Lids."
In my opinion, New Era and Lids did well to earn exposure for their new product without crossing that often fuzzy line of overly pushing the sponsorship in the viewers' faces. Other brands should take notice to see a Google+ Hangout (or something similar) can easily be monetized, or be used to gain exposure for current partners. As a Colts fan, I hope the organization has plans to use the tool to introduce the many other new faces to Indianapolis.
What NFL players would you most want to meet in a Hangout? Were you surprised to see the Colts use Google+ Hangout with Andrew Luck minute after he was drafted? What other sponsorship opportunities do you foresee working well in a Hangout setting?